Business Valuation Lawyer for Divorce
Complex and High Asset Divorce Attorney Assists with Business Valuations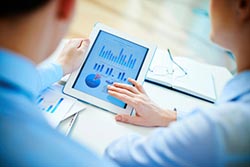 One of the most challenging problems in a divorce proceeding is determining how marital assets should be valued and divided between divorcing spouses. This challenge is particularly tough when the asset is a business interest. Perhaps you or your spouse started the business before or during your marriage. Maybe it is a joint business with you and your divorcing spouse each contributing time, energy, and labor to start and grow the enterprise. Deciding what the business is worth can be an emotional and contentious endeavor.
When you need to determine the value of a business while dividing assets in a divorce, it is important to have a trained Connecticut family law attorney who can guide you through the process. An attorney can help you and your divorcing spouse reach solutions that are right for the both of you and avoid the expense and stress of litigation.
At the Law Offices of Elizabeth A. Edwards, LLC, we have experience handling all matters associated with the valuation of a business. Through the processes of mediation and collaboration, we help you find solutions to your valuation disputes.
Business Valuation
In a divorce proceeding, Connecticut courts will divide marital assets according to a process called equitable distribution. Equitable distribution attempts to divide the marital assets between divorcing spouses in a manner that is fair (though not necessarily equal). The first step in equitable distribution is to determine the value of the asset to be divided.
To determine the value of a business, courts will attempt to ascertain the business's fair market value. The fair market value is the value of the business if sold in the market today. The court may rely on a number of valuation techniques and may examine attributes of the business, such as its size, revenues, profits, and assets. Additionally, or alternatively, the court may compare the business to other businesses in the same or similar markets. In many instances, the court may attempt to predict how much the business may shrink or grow in the future and or ascertain future revenues and profits.
As you can imagine, determining a fair market value for a business is a complicated and nuanced process. You may not agree with the valuation techniques used or the results reached by the court. Further, such valuations often require the use of one or more experts. The cost of paying for such experts and to determine the value of your business by means of the courts may add significant expense to your divorce.
Help To Reach a Positive Resolution
At the Law Offices of Elizabeth A. Edwards, LLC, we believe in efficiently reaching an outcome that benefits everyone involved in the dispute. As opposed to litigation—which is all about determining who wins and who loses—mediation and collaborative divorce are problem-solving processes that offers an opportunity for all parties involved to reach a satisfactory result. Mediation and collaborative divorce provides a number of benefits over litigation, including:
Lower costs – avoid litigation expenses including attorney fees, court fees, and expensive experts to value your business
Saved time – reach a valuation sooner than relying on the court system
Greater participant control over the proceedings – have a greater say in what you believe the value of your business to be
Greater likelihood of preserving the relationships of all involved – preserve the relationship between yourself and others who may share in the business going forward
When mediating or collaborating concerning a business valuation, our goal is to help you move past the dispute and on with your life. Contact the Law Offices of Elizabeth A. Edwards, LLC today. I serve clients in all areas of Fairfield County including Danbury, Ridgefield, Wilton, Stamford, Georgetown, Westport, Weston, Norwalk, Redding and Greenwich, New Canaan, Darien and Fairfield.
Please contact me at (203) 544-9945 for additional information or to schedule an appointment.
Area of Practice for Divorce
---